HUGE, HUGE, HUGE HOUSE! 9 Bedrooms/2 Baths 4616 sqft of living space; Asking $90k - Turn it into a room rental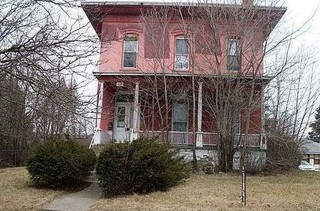 Location:
Elmira, NY
1064 College Ave, Elmira, NY 14901
This can be YOUR CASH COW! Potential rents average $450/mo per room; that's a total of $4,050/mo or $48,600/yr. WHAT?
Instead of keeping it as a single-family home, turn it into a ROOM RENTAL! The rooms are already there. Elmira College is a half mile away. Students need a place to live! St. Joseph's Hospital is less than 2 miles away. Employees need a place close to work!
There are hardwood and tile floors throughout. This home used to be an apartment building before the current owner moved their large family in and turned it into a Single Family Home. Now all the kids have grown up and moved away and she's ready to let it go. It's priced to sell fast.
It's zoned residential. The roof was replaced in 2007. It's got 34 windows, basement, attic, 5-6 fireplaces (can be reopened), family room, dining room, 2 car garage, had 3 baths but 1 was closed off; the lines are still there. It's perfectly situated for immediate room rentals from the local college students; their families have already been stopping by to inquire of room rentals.
There are no other homes of this size nearby. This home is unique and can be yours.
Approx. repair cost is 40-50K
All Buyers Must Provide Proof Of Funds
Earnest Money Deposit Of $5,000 Required
All information provided as a courtesy, I urge you to do your own due diligence regarding values, estimates, and comps. This property is being 'SOLD AS IS'.
Call ustoday for complete details and showing instructions @ 443-484-8447
www.bigandsmallproperties.com
#nyrealestate #nycashbuyers #nyinvestors #nywholesale #nyhouseflipper #nybuyandhold #nyrentals
Big and Small Properties, LLC is a Maryland based Real Estate Investment Company. We specialize in wholesaling, flipping, renting, and lease optioning real estate properties. We buy houses for cash creating a quick turn around. We also partner with other investors to buy distressed, as-is single-family homes, large and small multifamily properties, commercial properties and mobile homes.

1064 College Avenue
Elmira, NY 14901
View Map
Price: $90,000
Bedrooms: 9
Bathrooms: 2
Square Feet: 4,616